BFA Rietveld Academy, Thesis Award Nominee
Title "Let me tell you the truth"150 pages
Abstract: This dissertation offers an analysis of the politics of truth and speech, taking into account the historical influence of gender, identity, race, caste and colonialism in the access to the truth-claim. In order to offer a disruption to the often abstract and conceptual discussion of critical theory, this paper uses three narratives as satellite stories to the academic investigation of the themes proposed. These stories also anchor the author and the reader to what is truly at stake - the realm of human experience.
Extract: "You see, the act of determining something as truth is bipartisan: it requires an active part that claims that something is the actual state of things, and a passive part that accepts it as such; a truth claimer without an accepter is just a theorist (conversely, a theorist with an accepting audience may effectively be considered a truth-teller). For the active part of the equation, the intention is of extreme relevance: the truthfulness of the truth-teller, meaning the intentional honesty of the one telling the story, absent of intentionally deceptive will, is almost constitutive of the truth and a pre-condition for its acceptance; (…) - and yet, from the passive part, there isn't an equivalent threshold: against overwhelming evidence, the passive part of the equation can somewhat not accept (i.e., not believe in) the truth-teller. Much as vision, accepting the truth seems to be an act of choice: just as we only see what we look at, we may only accept what we choose to (hear) - that act, in itself, likely to be affected by what we know or what we choose to believe (to be most likely probably true)."
For purchasing this book, please contact me.
COLOPHON
Text & Research: Vivian Cintra
Tutor: Q.S. Serafijn
Co-advisor & Editor: Delphine Bedel
Graphic Design: Daniel Iglesias Gonzalez
Proofreading: Devon Genser
Font:
Badass Libre Fonts
by Womxn, spearheaded by Loraine Furter
VIA CURA


(a quasi film), cerca 10 minutes

video-installation



Via Cura is a deconstructed film, based on a script that I wrote to a friend battling a serious illness, and initially had no intention of ever being performed. The script was a gift, something I wrote to distract her, and create her a new world, outside of the medical care facilities.
The plot is a critical fabulation exercise on the Myth of Cura, the Roman Goddess of Care (as unearthed by German philosopher Martin Heidegger, in
Being and Time
), and the quest for metaphysical healing (materialized in the personification of the myth and the search for the path towards Cura).
The Goddess of Cura (also known as
Aera Cura
) is attributed in early Roman mythology as the creator of humanity. The myth was first told by the first-century mythographer Hyginus, who narrated in his
Fabulae
compilation that humankind was created from clay by the personification of care (Cura). And yet, for centuries, the Myth of Cura became largely forgotten in Roman Mythology as the creation of humanity started to be consistently attributed to the Greek Titan Prometheus. The forgotten Myth of Cura attracted the attention of German philosopher Heidegger, who observed a double sense in the personification of Cura. The word "Cūra", in Latin, has different translations: some consider it to derive from the Latin word "cūrāre," having a similar meaning to "Care" and "concern," as in to look closely after someone or something to secure their wellbeing and safety; some translate it as "Cure," as in the treatment applied to restore one's good health, to heal it. This duality of the meaning of Cura was then used by Heidegger in shaping
Dasein -
his notion of
being-in-the-world
. The problem of being (or of existing in the world) is one of the most fundamental philosophical questions in Western thought; in
Being and Time,
Heidegger noted that human existence is always an act of being within the world: an individual is neither a subject nor the objective world alone, but a being-in-the-world. Thus, Dasein, for Heidegger, is a way of being while caring for the immediate world in which one lives; a being that exists within the context of the structure of care: being-with-the-world is the only way in which an individual reaches its "authentic potentiality-for-being-a-whole." To Heidegger, authentic care and concern for the Other are a calling that Dasein answers within its temporal existence on Earth. To Heidegger, it is
Cura
who symbolizes Dasein, as the entity which will remain in the "possession" of humanity throughout its life.
This film is not finished nor is it intended to ever be finished. The concept of this work is to be an ever evolving film. Multiple parties will be requested (or brought to life using animation) to render the different personas in the film. New elements may be added to the script, and every presentation should be done in a different manner than the one before. Unstable, mutating, as life and cure.


NB: This work is part of the ongoing series Feminist Proposition on World-Building, by the author. This work zooms in to one of the Propositions: Kinships & Radical Care.
CREDITS
Ingrid & Cura: Ingrid Middelkoop (last photo above) & Merel Severs (first two photos above)
Concept, script, direction, camera, makeup, costume design & edition: Vivian Cintra
Avatar design: Vivian Cintra
Avatar animation: Vivian Cintra & Mazouzi7
Avatar development uses Unreal® Engine. Unreal® is a trademark or registered trademark of Epic Games, Inc. in the United States of America and elsewhere. Unreal® Engine, Copyright 1998 – 2022, Epic Games, Inc. All rights reserved.
With special thanks to DE SLOOT Amsterdam & Merel Severs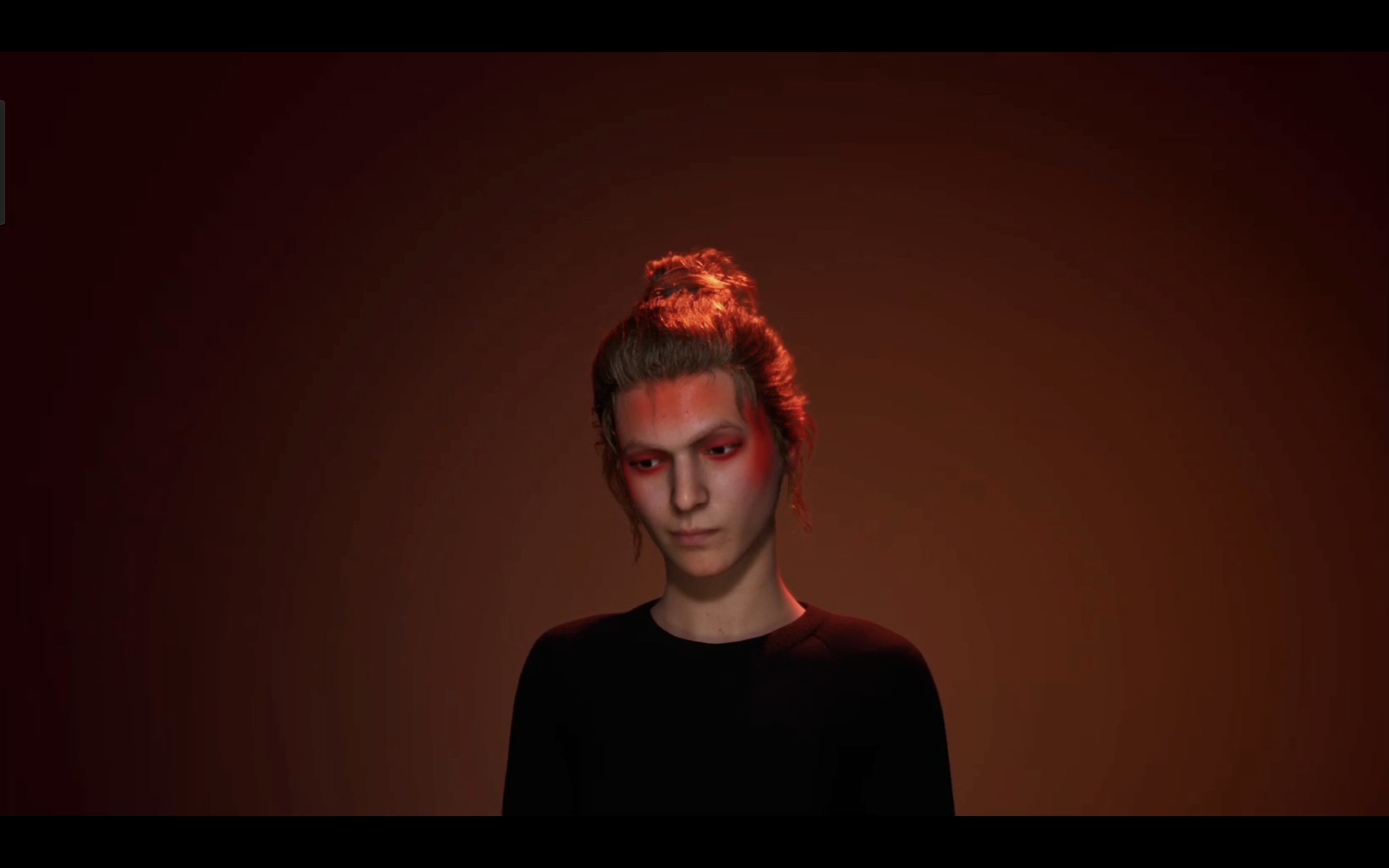 Video sample: *

* A new edit has been made and shown every day during the Graduation Show at the Rietveld Academie.



Vivian Cintra - DOGtime Expanded Painting from Gerrit Rietveld Academie on Vimeo.



Video interview: "Homage to Zubrowka, the Club RoXY Muse:

Amsterdam Museum


In the second edition of Collecting the City, one of the themes is Club RoXY. The iconic house club that was home to many kinds of people and burned down in 1999.

Cleo Campert was Roxy's house photographer and recorded a lot of what happened in the 80s and 90s. In this small exhibition she shares her memories as an homage to Club RoXY and to performing artist Zubrowka International.

As part of the show, Campert interviews Zubrowska regarding her carrier and experiences at Roxy, for which I assisted Campert.

This exhibition opens on September 25th, 2022 and is part of the Collecting the City project. Together with communities, individuals and institutions from Amsterdam, the Amsterdam Museum 'collects' and presents the stories and objects of today's city.
Talks
2023 - DAE Lecture Series hosts → Ilga Minjon & Vivian Cintra -
"Voicing"
at
DAE (Design Academy Eindhoven)
2023 - "Conducting a
Code", Masterclass at Go Short Film Festival
2022 -
Code of Conduct for the Arts, Theater a/d Rijn
2022 -
"Political Activism as an Artistic Practice", at Casco Art Institute for Platform BK Solidarity Camp
Interviews


2023 - "Conducting a
Code", Masterclass at Go Short Film Festival


Writings
2023 - "Solodarity", for
Platform BK, Solidarity Camp
Reader (to be published)
2022 - Interview "The Future is Ancestral" of Brazilian Indigenous activist, singer and leader Thaline Karaja, with Delphine Bedel, for the first edition of
emergences
by
@bureau_communes
, in Paris
2022 - Contribution to Delphine Bedel, Marie Docher (Ed's) '5 years: History as a Manifesto' Meta/Books, Amsterdam 2022. The publication is a collaboration between Paris Photo fair, the French Ministry of Culture and Kering Foundation - Woman in Motion.
2022 - Thesis "Let me tell you the truth", Bachelor of Fine Arts (BFA) Rietveld Academie, Amsterdam (Thesis Award Nominee)
2021 -
"Baker-Miller Pink, the history of women's shaving, Hitler and the Gulabi Gang"
(self-published)
Shows
2022 -
Graduation Show 2022, Gerrit Rietveld Academie, Amsterdam
2021 - Si Si Spex #11, Gerrit Rietveld Academie, Amsterdam
2021 - Stedelijk Museum Amsterdam, Studium Generale Rietveld Academie: "
Resilient Bodies:
Strategies and Practices for Fluid Embodiments", Amsterdam, The Netherlands
Live performance

2020 - Group exhibition,
Unbetween
, Edges of distance
, Dogtime, Online Show, broadcasted from SHEBANG, Amsterdam
2019 - Group exhibition, Not yet SHEBANG,
Unbetween, The Luminous noise of nothing and all
, Amsterdam, Sound & textile installation
2019 - One-Off Moving Image Festival,
HUMAN versus Nature
, "Fogo"
(One second movie
), screed in public spaces in Valencia (ES) and Gol(Norway) in addition to the net, using QR-codes and offline wifi-spots to access with smart devices, Video work
2019 - 60seconds Festival "HUMAN versus Nature" - Urban screenings - Copenhagen (DK) & Valencia (ES)
2019 - Gerrit Rietveld Academie,
Ways of lying
, Amsterdam, The Netherlands
Performance lecture

2018 - Jonas Ohlsson's students' contribution to "Frankenstein" show in the Vishal, Harlem
Education

2022 - Bachelor of Fine Arts (BFA), DOGtime Fine Arts, Rietveld Academie, Amsterdam (Thesis Award Nominee)
2016 - Orientation Year, KABK
2012 - LL.M. in Public International Law, Universiteit Leiden, The Netherlands
2012 - Bachelor of Laws (LL.B), Faculdade de Direito de Sorocaba (Law School), Brazil